The Future Philanthropist Program provides high school students with the opportunity to learn how to be philanthropists and grantmakers. With this unique program, high school students learn the art, science, and business of philanthropy, raising and the distributing over $50,000 in grants to worthy local nonprofit organizations annually. The students also evaluate the impact of their decisions on youth issues as a result of the grants they distribute.
The Future Philanthropists Program has four goals:
To instill knowledge and understanding of the important role of philanthropy in the community and in society.

To give teens a leading role as primary decision makers in the important process of allocating grants to charitable organizations.

To teach teens the art and science of fundraising in order to plan and implement activities that result in charitable contributions.

To provide opportunities for teens to express and demonstrate volunteer leadership activities in the community.
Juniors from Oak Park-River Forest High School, Fenwick High School, Trinity High School and St. Ignatius College Prep are eligible to apply. Adult mentors from the community whose own philanthropy, fund-raising, and volunteer activities are notable provide guidance to both the junior and senior cohorts. Learn more in our program brochure.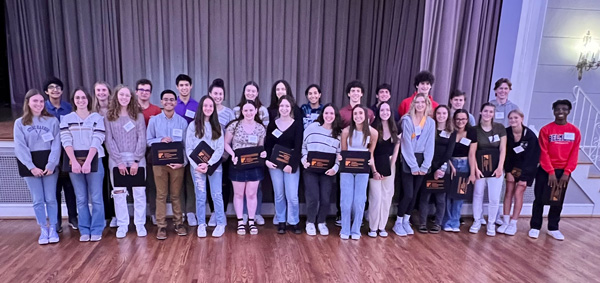 We are pleased to introduce the Class of 2024 Junior Cohort. The group includes Vilas Advani, Emerson Amstutz, Lucas Crossman, Josh Curry, Nellie Dargis, Natalie Dauphinee, Sonja de Jong, Nora Derks, Sahiba Dhillon, Roan Doody, William Healy, Zoe Hendrickson, Phyllis Kreiter, Maria Kunigk-Bakalar, Kate Lewis, Avery Lucas, Ashley Mandell, Kathryn Meister, Gabriella Morales, Sebastian Mrotzek, Anthony Ortiz-Ferrer, Brady Sorg, Beatrice Spell, Shea Sturtevant, Max Timchak, Saskia van der Meer, Mara Vogen, Olivia Wangerow, Gabrielle Williams, and Josh Wood.
Impact
Grant awards are made by the junior cohort in the spring of each year at the Future Philanthropists Program Capstone event, and the fund-raising successes of the senior cohort are announced at this time as well. Every dollar raised goes into the Future Philanthropist Fund held at the OPRF Community Foundation to support grant-making by the next group of juniors in the following year. Everyone is invited to contribute to this annual fund that will continue to provide the resources to educate future philanthropists, while making an impact now to benefit young people in our community.
FPP Class of 2022
The senior cohort is tasked with raising money each year so that the FPP Fund can provide more grants to nonprofits to support their important services. After their year-long fundraising campaign, the seniors were able to raise a total of $127,647. In response to the significant increase in the needs of area nonprofits due to the effects of COVID-19, they also awarded an additional $25,000 in grant funds.
FPP Class of 2023
The junior cohort received requests for grants from 26 community organizations, and after careful and diligent consideration, awarded a total of $50,000 in grants to 9 different nonprofit organizations in Oak Park, River Forest and bordering communities including the Austin Neighborhood. In combination with the senior cohort contribution, the 2022 grant awards reached a record $75,000 in total giving.