As part of the Communityworks initiative, the Oak Park-River Forest Community Foundation commissioned PlanItGreen, tasked with the creation and implementation of an environmental sustainability plan for Oak Park and River Forest, and funded Seven Generations Ahead to facilitate the project.
Cross Community Climate Collaborative (C4)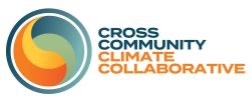 C4 is a project of co-lead organizations Seven Generations Ahead and the Urban Efficiency Group and the mayors of Broadview, River Forest and Oak Park designed to bring together BIPOC and non-minority communities across income lines to share ideas, secure resources, and drive large-scale projects within and across communities that achieve greenhouse gas (ghg) emissions reductions, equity and sustainability goals. The project currently supports 14 disinvested and resourced communities in Illinois through a unique mayoral collaboration that prioritizes replicable projects, outcomes and metrics on a timeline in relation to the climate crisis, equity and sustainability.
The Oak Park River Forest Community Sustainability Report Card (PDF), released in 2018, provides a snapshot in time of progress against sustainability goals. Baseline metrics – dating back to 2007 – were created and used as a basis of comparison. Reports include activity highlights, challenges and strategy snapshots. Over time, the sustainability report cards illuminate trends, highlight successes and shortcomings, and ultimately help support decisions on future policies, strategies, and resource allocation needed to achieve the 10-year plan's goals by 2020.
The PlanItGreen Sustainability Plan (PDF), released in 2011, aims to reduce the environmental footprint and advance common sustainability objectives of Oak Park and River Forest through 2020. Phase 1 began in August, 2010 with the aggregation of baseline metrics on community resource use conducted by the Center for Neighborhood Technology. Phase 2, led by Seven Generations Ahead in collaboration with the Delta Institute, included a multi-faceted community engagement process that resulted in the development of a final plan with goals, targets, and strategies in nine sustainability topic areas.